Power Trading: Consulting & Services
With more and more organizations committing towards clean & green energy utilization to meet energy demands, CES, being global energy consulting & services company, is well equipped to handle end to end electricity related matters of the organizations spread across India.
Consumer Portfolio Management
Since 2010, CES has been helping large IT companies, data centers, manufacturing and other client bases right from identifying cost savings measures to their implementations.
CES provides expertise across the value chain of electricity market, including on-site & open access energy procurement feasibility study, evaluation, implementation, communication, participation, verification & financial settlement.CES is handling large scale folios to assist them in framing and achieving renewable energy integration to meet sustainability targets, reduce environmental impact & help achieve carbon neutrality. SUSTAINABILITY | CARBON NEUTRALITY
With the in-house expertise available from US markets, CES also offers un-parallel insights to their clients towards integration of emerging techs, cost optimization and future readiness.
Bilateral Contracts (Renewable / Non-Renewable)
CES offers curated bilateral contracts to meet buyer and seller requirements on Technical and Commercial fronts. CES plays a major role in these contracts right from identifying the generator for buyer and vice versa to closing the techno-commercial rounds. SOLAR | WIND | Small HYDO | HYBRID
RE Consulting – Captive models
CES assists corporates to strategize RE purchases and remains a part of their own team throughout the RE Integration process through Captive models. CAPTIVE – SOLAR | WIND | RE + Energy Storage
Exchange Based Contracts
CES has been granted Electricity Trading License by Hon'ble Central Electricity Regulatory Commission. CES is registered on Indian Energy Exchange (IEX) in Energy and REC Segments to meet all the client requirements through exchange-based contracts. DAM | RTM | TAM | GTAM
REC & RPO
CES is registered on Exchange platform to facilitate Sell and Buy of Renewable Energy Certificates (RECs). CES facilitates purchase of RECs on voluntary basis. CES helps clients in RPO compliance & reporting.
CES advices renewable energy generators on eligibility criteria, accreditation & registration of RE assets under REC mechanism and provide service to sell RECs on power exchange to maximize revenue.
Regulatory & Policy Updates
CES keeps a vigil on the State/Central policies and apprise the Client with any impact on the Contract, Energy Cost, viability etc. and any obligation arising out of the contract in terms of Regulatory Filings.
One Stop Service for all Electricity Procurement Cost Management
WHY CES?
Highly knowledgeable staff with diverse experience in energy trading, power distribution, operations, consulting, planning, finance & public policy
Focus on maximizing value to our clients & client satisfaction
Proactive monitoring of energy market & policy changes
Services are ''customized'' according to client need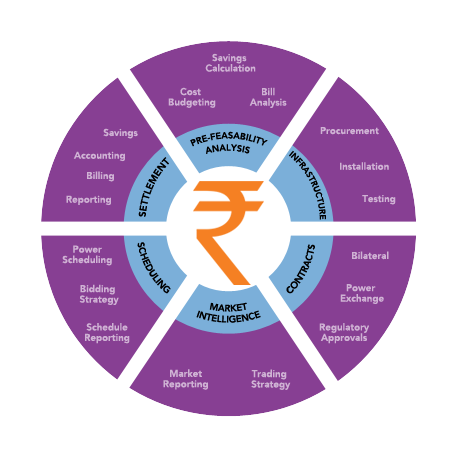 Request More Information